Your top ten dental implants questions answered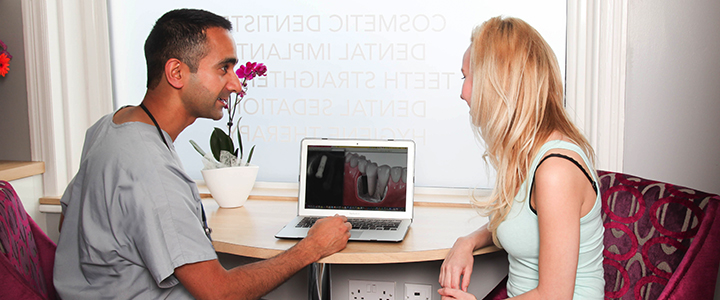 If you have one or more missing teeth, your dentist may have mentioned that dental implants are the best solution currently available for most people. We appreciate, as a dental practice offering dental implants in Bury, that it's a big step and you probably have a lot of questions about how dental implants work, how much they cost and what having them fitted will feel like.
In this week's blog, we've answered the ten questions we get asked about dental implants most frequently:
What is a dental implant?
A dental implant actually has three different parts. The first – the actual implant – is a small titanium threaded cylinder, which is placed into the jaw bone to replace a missing root. The second part is called an 'abutment'; this fits on to the implant, coming out of the gum as a secure base on which to fit a false, prosthetic tooth. This false tooth or dental crown is the third part.
Dental implants are currently the solution to missing teeth that best mirrors the strength, function and appearance of real teeth. Because the dental implant is fitted in the jaw bone, your body gets the signals it would normally get from a tooth root to continue growing and strengthening around the implant site. This holds the dental implant in place, making them far stronger than dentures.
By the end of dental implant treatment, most people find that it is impossible to see which teeth are false teeth and which are real. This is a great confidence booster and a way of restoring a previously damaged smile.
Are dental implants safe?
Dental implants have a success rate of 98% worldwide and an impressive safety record. In the hands of an experienced and highly trained dentist, the chance of complications is low. Problems are more likely to occur if you have experienced some bone loss or bone weakness. However, it may be possible to pre-empt this with a bone graft.
As with any surgical procedure, there is a risk of infection. However, we have excellent infection control procedures and will carefully screen you before creating your treatment plan to make sure that you are an ideal candidate for dental implants.
Does it hurt to have dental implants?
The actual procedure to have your dental implant(s) fitted won't hurt as it is carried out under local anaesthetic. Many people also tell us that having dental implants fitted was far less stressful than having a natural tooth extracted.
Immediately after your dental implants are fitted, and over the next two to five days, you may experience some swelling and discomfort as your gums heal. This can usually be managed well with painkillers. If you have dental implants in Bury at Harwood Dental Care, we'll give you very detailed aftercare instructions, so you know what to expect and give your mouth the best chance of healing quickly.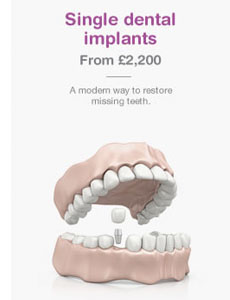 How long does it take to place a dental implant?
The amount of time you'll be in the dentist's chair will completely depend on your individual case and how many implants we plan to fit. Appointments can take anywhere between 30 minutes and three to four hours. We'll always discuss this with you in advance, so you know what to expect on the day.
Will I need to take time off to recover?
There's no getting away from the fact that having a dental implant fitted is a minor surgical procedure and you will need some recovery time, especially if you're having several implants.
How much downtime you need will again depend on your individual case. If you're just having one or two dental implants, then you may feel happy to return to work the day after your treatment. If you need extensive bone grafting surgery, sinus grafting or have several implants, then we may recommend that you plan for two to three days' rest afterwards.
We'll always talk you through the possible recovery times so that you can coordinate your treatment with work.
You might want to arrange for someone to drive you home from your appointment, and stock up on drinks and softer foods to tide you over for a few days.
Can any dentist fit a dental implant?
Although dental implantology in the UK hasn't currently been awarded its own specialist list, you should always choose a dentist who holds qualifications in dental implant surgery and has good dental implant experience and credentials.
How long will it be before my treatment is complete?
The length of time it takes to complete your treatment will depend on your individual case. We may need to get you orally fit first or carry out a bone graft that needs to strengthen – every case is different. You will always be given a treatment plan that outlines what we plan to do, when and why.
Generally speaking, once an implant is in place, it needs approximately three to six months for the bone to strengthen around it. Once we are confident the implants are strong enough, we will fit the abutments to the top of the implant. Roughly two to six weeks later, we'll fit your prosthetic teeth and your treatment will be complete.
Are dental implants easy to look after?
You will need to look after your dental implants in the same way as you care for your real teeth. Brush and floss twice daily and attend regular routine check-ups with the dentist and hygienist. If you have a cosmetic bridge that replaces several teeth and is attached to two or more implants, we'll give you a special interdental brush to make sure you can get in all the nooks and crannies your toothbrush can't reach.
Are dental implants expensive?
For many people, this is the big question. At a glance, dental implants certainly seem like an expensive option to replace missing teeth. In part, this reflects the need for special equipment, technology, training and support staff needed to carry out this procedure to a high standard.
That being said, it's important to take the long view with dental implants. With the right care, dental implants have the potential to last as long as a real tooth, meaning that they may well be a one-off payment. With other restorations such as bridges and dentures, you will need to replace them every few years, so dental implants often work out as an incredibly cost effective option.
Can I spread the cost of my dental implants?
Here at Harwood Dental Care, we have offer a choice of low interest and interest-free finance options for treatments such as dental implants. You can read about spreading the cost of your dental implants here.
If you would like to find out more about dental implants in Bury, please call us at Harwood Dental Care on 01204 304 568.