Harwood Dental – Family Dentist in Bolton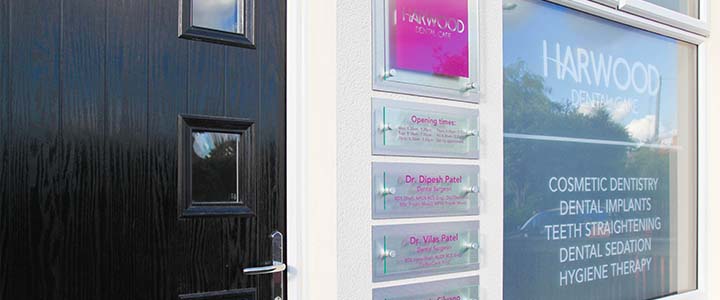 We pride ourselves on being one of Bolton's leading family dentist practices. Our dental surgeons have been extensively trained to keep the teeth of both adults and children healthy. We also understand that you may appreciate an appointment time that allows for the dentist to examine your family's teeth all at once, so please be assured that we can provide you with a family appointment, at a time that's convenient for you.
It's important that you introduce your kids to the family dentist as early as possible, because currently a third of all children in the UK start school with tooth decay. Some parents  might be concerned that their child will be afraid of the dentist on their first visit, that he or she might cry, or fidget, but we welcome all under 18s and will do our very best to put your little ones at ease.
The healthy development of your child's teeth
 
From the age of six months onwards, your child's teeth and gums will experience many changes. The first teeth begin to come through the gums at approximately six months and the final milk teeth are visible at around the age of two. The first set of teeth then begins to fall out at age 6 or 7 and this continues for a few years. From the age of seven onwards, your child will be in a position to brush his or her teeth independently, make dietary choices at school, away from your supervision, as well as have any bite problems corrected through orthodontic treatment.
The importance of dental appointments for your child. 
With so much tooth movement in these early years, it's important that your child has a good brushing technique, and that in the early years you are brushing your child's teeth correctly for them. This may seem obvious, but there has been a 20% increase in cases of tooth decay in children, that have been so severe, the children have had to be admitted to hospital.
We will teach your child how to brush his or her teeth effectively, to prevent tooth decay. We will also advise you on diet to ensure that your child isn't receiving too much sugar. Should your child already be suffering from cavities, we can repair them. Should your child have been injured and his or her teeth knocked out, we can help.
Introducing your child to regular dental appointments as early as possible will help your child to understand the importance of good dental health and help them to not develop a fear of visiting the dentist. Preventative treatment, combined with regular check-ups, means your child will be far less likely to suffer from painful or serious dental problems in the future.
If you're looking for a family dentist in Bolton, please give us a call. Not only can we guide you through the registration process, but we can also provide a finance plan that will help you spread the costs of your treatment to make it more affordable for your family.
Please get in touch with our expert team today to find out more about the different initiatives we offer to help your child's teeth be as strong and healthy as they can be before they start school. We'll help your children to help themselves.