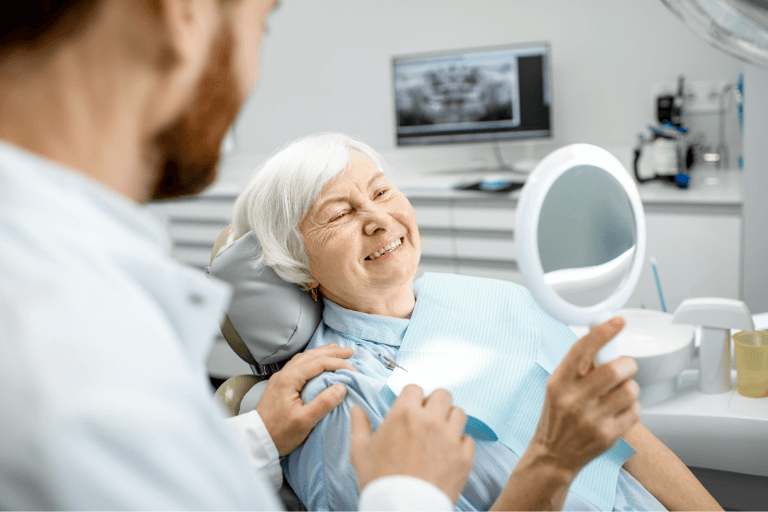 Reasons To Replace Missing Teeth
Missing teeth can affect so much more than the appearance of your smile – but with age and through certain lifestyle factors, our dentists note that they're becoming increasingly common in the adult population.
In this post, our dentists talk through the surprising reasons you should replace your missing teeth, and also detail our revolutionary dental implants treatment, which can help 'fix' your smile once again.
1. Biting & chewing
We put our teeth through their paces – from biting our nails, to chewing pen lids, to tearing open packages with our teeth. Certain foods we eat can have a detrimental effect on our smiles too, leaving teeth cracked, chipped, broken, or worse, in need of extraction. Whether it's cracking nuts, crunching on candy or chewing ice, bad habits and bad diet can leave us in need of a replacement tooth.
Dental implants are a great way to restore biting and chewing function to your teeth, which means no food need be off the menu. With crowns made of strong, natural-looking porcelain, and roots made of sturdy, biocompatible aluminium, our clever dental implants also look the real deal, too.
2. Facial structure & movement
It might surprise you to learn that our teeth support our facial tissues and structure, but it's true. That's why multiple missing teeth can cause the area around the mouth to appear saggy or sunken. But as well as this, restoring the teeth can help make speech easier and clearer, too.

Tooth implants give permanent support to the facial structure, and won't slip and slide like dentures do. In fact, that's one of the main reasons our patients choose tooth implants, because there's no embarrassment involved and they're as sturdy and successful as natural teeth.
3. Bone & gum retention
Missing teeth can lead to bone and gum loss over time, and can affect the health of the gums, too. It's a bit like your muscles wasting if not being used – the jawbone is actually protected through the pressure of chewing and use, and is reabsorbed by the body with tooth loss.

Tooth implants look and act like your real teeth. Many people won't notice you have a dental implant, or will mistake them for your natural smile. They're also designed for life, so you can be confident they'll preserve your oral health, as well as your dental functions.
Book today
To discover how tooth implants could work for you and your smile, get in touch with our expert dentists here at our Harwood dental practice, located in Bolton, today.