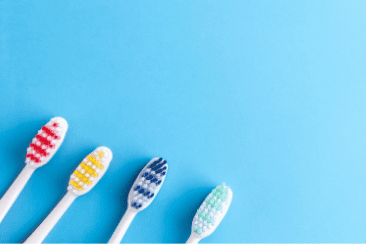 Your Guide to Healthy Gums
We all know about the dreaded gum disease – nobody likes or wants to have it. if you do have some form of gum disease whether it's mild or severe, you're not alone and can still work towards healthy gums with the help of some expert care. To put your fears at ease, here are some super top tips to keep those gums happy and healthy. Of course, we also welcome our patients to book in with our dentists here at our practice in Bolton to help tackle any teeth or gum concerns.
Brushing
It's obvious that you should brush your teeth to keep them clean, but it's even more important to brush your gums effectively. Some people get into the habit of only brushing their teeth, leaving bacteria to penetrate into the gums. By brushing both teeth and gums, it doesn't only make for a healthier mouth, but it also reduces your chance of gum disease. Here at our practice in Bolton, our dentists can recommend a high-quality toothbrush that works effectively on the teeth while still being comfortable on the gums. The aim is to brush and clean, not to scrub and scrape.
Flossing
You should definitely incorporate flossing into your daily routine, as it helps to remove excess food and bacteria left in the gaps of your teeth, that you can't always manage to tackle with a toothbrush. Leaving food to sit in your teeth can contribute to the build-up of plaque. People usually put off flossing as it can make the gums bleed, but as you carry on flossing, the bleeding will stop as your gums become healthier. Our dedicated team of dentists here at our Bolton dental practice can give you advice on techniques and products to try.
Things to Stop
Smoking – smoke makes you a lot more susceptible to gum disease. Your teeth start to lose their structure and become very dark. Mouth washes and even specialist toothpastes might have a short-term effect, but the build-up of plaque will continue and the risk of serious conditions grows as you continue to smoke.
Stressing – stress can affect your oral health as when you're stressed, you tend to neglect your oral health, as it's the last thing that's on your mind. The more you neglect cleaning your teeth, the more vulnerable you are to plaque build-up and gum disease. Stressed-out people also tend to grit and grind their teeth as a nervous habit. Not only does this cause damage to the teeth, but it can cause you to have harsh headaches and toothaches too.
Visit Your Dentist
If you start to notice that your gums have become sensitive, swollen and red, it's best to be safe than sorry and book for a check-up. They can help to give you some advice on how to deal with your symptoms and treat the condition of your gums. They will guide you on a process to better oral health.
If you have any concerns over your oral health, don't hesitate to contact your dentist here at Harwood Dental in Bolton.