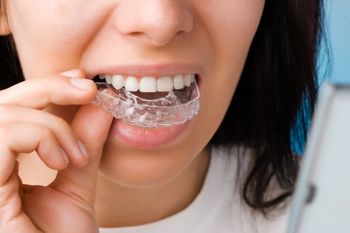 10 Facts About Invisalign Braces
Interested in Invisalign? Wonder no more! In today's post, we round up 10 top facts about these incredible braces. 
They're clear
One of Invisalign's main draws is that their braces are totally clear – which makes them far less visible when you smile, especially compared to the wires, brackets and elastics of traditional fixed braces. 
They're removable
Our clients love how easy Invisalign braces are to remove – just tuck your fingers behind your upper molars, and they easily lift away.
They're easy to clean
Rinsing on removal is a must, but you can also soak them in solution every couple of days (like denture cleaner, or Invisalign's branded crystals). This helps keep them free from bacteria and prevent any food debris building up.
They're predictable
Invisalign has the technology to plot your treatment stage-by-stage, as well as your final results. It means you'll know what to expect before you start, so there are no surprises along the way. It's ideal for giving patients that peace of mind, and goes to show just why Invisalign is such a trusted name in the industry.
They're comfortable
Without wires, brackets and elastics, you might even forget that you're wearing Invisalign braces. They're moulded to your exact smile at each stage of treatment, making them comfy and secure on your smile.
They're suitable for teens
Both adults and teens can benefit from Invisalign braces – just ask your dentist! In fact, Invisalign has successfully treated millions around the world.
They're innovative
As well as predicable treatment, Invisalign also designed an app to help you in your straight smile journey. It's a great tool for tracking progress and sharing updates with friends.
They're highly successful
As we've touched on, millions have enjoyed incredible results from treatment – and they're even loved by celebrities!
They're affordable
Such a fantastic treatment has got to be expensive, right? WRONG! Invisalign is more affordable than ever, and you may even qualify for finance.
They're flexible
With 20-22 hours' wear required per day, you're welcome to have a breather from your braces whenever you need it – so teens can feel free to smile in their yearbook photos and adults can briefly pop them out if they're going out socialising.
Want to know more?
If you're interested in these incredible braces at Harwood Dental Care and want to see how they could work for you, get in touch with our Harwood team today.