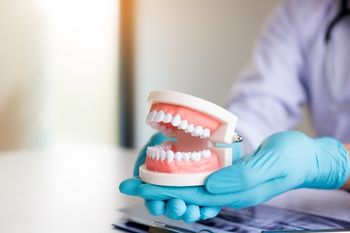 Do Dental Implants Feel Natural?
For many years, we've offered our wonderful patients here at our Bolton dental practice the perfect solution for missing teeth: dental implants. If you haven't heard of them, don't worry – we're here to talk about their many benefits, as well as shed some light on the treatment process, including your consultation.
Dental implants, or tooth implants as they're also known, are false teeth that are permanently implanted into the jawbone. Here's a bit more about them.
The procedure for Dental Implants
We'll talk first about what dental implants are made of and how they're inserted into the mouth. With a metal root and ceramic crown, your tooth implant mimics the natural strength of your teeth. It's fitted in two parts, in separate appointments, to allow a chance for healing in-between. A temporary crown can be fitted during this time. Although the procedure involves minor surgery, it's straightforward to carry out – we'll numb the area, make a small incision, create a tiny hole and gently screw the implant in place. This then fuses to the jawbone to create a strong foundation for the new tooth.
The main benefits of Dental Implants
Our patients love dental implants for so many reasons. The biggest? That they look, and feel, natural. Ceramic is the material used for crowns and veneers, and is the most authentic, as it mimics the appearance of your natural teeth. It also can be adjusted to match the exact shade of your smile, so no tooth looks out of place. And, because dental implants fuse with the jawbone, it feels much like your natural teeth, too – and you won't have to deal with slipping or wobbling, as you might with alternatives like dentures. You'll also restore the appearance and function of your smile; have a low-maintenance solution for tooth loss; and can choose from single or multiple implants, depending on your needs. Finally, if replacing several missing teeth, you can help to strengthen the gum and jawbone and prevent a recession, thanks to the mechanical action of chewing.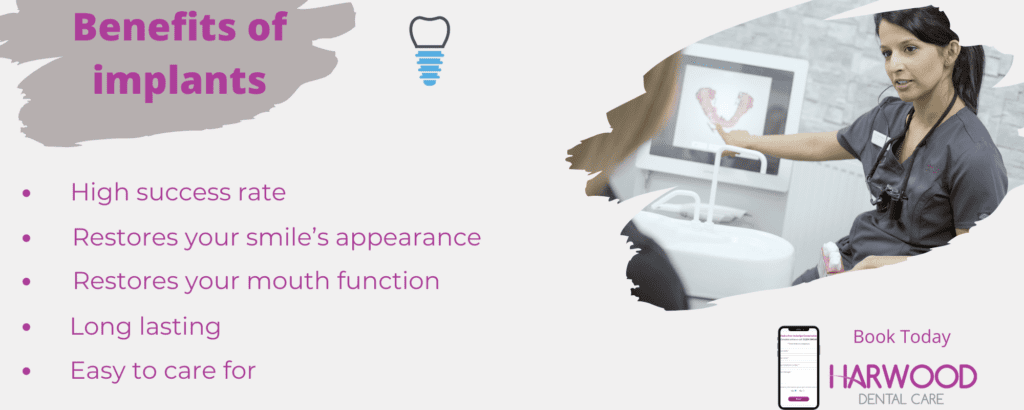 Your consultation
It all starts with a consultation here at our Harwood dental practice. We'll check over your mouth, teeth and gums; answer any questions you may have, and determine if the treatment is suitable. We'll then ensure you're happy to ahead with the process and book your appointment.
If you're interested in tooth implants here in Harwood, get in touch, and we'll arrange a consultation at your convenience.