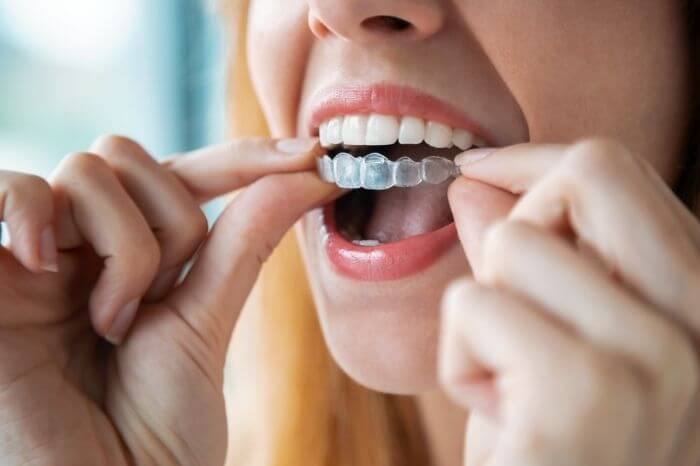 Health Benefits Of Invisalign
When it comes to Invisalign, the first thing that often comes to mind is teeth straightening – and of course, that's the main reason our patients decide on this clear brace treatment. But, surprisingly, that's not the only benefit to Invisalign; in certain cases, these clever, clear braces can actually improve your oral health. We'll explain how in today's blog, and if you've got any questions about the treatment, don't forget to talk to our Harwood team.
So, what's the idea?
Our smiles are all unique, with their own quirks and imperfections. Not only can Invisalign straighten your smile overall, but one of the best things about treatment is its ability to correct bite problems. These come with a whole host of concerns, such as tooth wear and erosion; headaches and TMJ; and even gum rubbing.
What else can it help with?
On top of this, aligning the teeth correctly means spacing them out properly. Too many (or too large) gaps can cause food to get stuck and contribute towards decay. Too crowded, and it becomes almost impossible to get into all the nooks and crannies between the teeth – again, leading to dental carries and other concerns. In other words, straightening your smile can actually make it easier to keep teeth clean, so your mouth, teeth and gums are healthier as a result.
What if I don't have treatment?
These kinds of concerns are unlikely to improve on their own. In fact, the opposite might be true, making the condition worsen over time. It's important to talk to a dentist as soon as possible if you have trouble managing your oral routine or notice pain or damage in the area.
Isn't Invisalign expensive?
In most cases, it's no more so than other braces. But, it does vary between patients, as some will need longer treatment than others. It's all because Invisalign involves cycling through sets of aligners (plastic trays for the teeth), so the more advanced your treatment, the longer it will take and the more it is likely to cost.
What else should I know about Invisalign?
It's one of the leading orthodontic treatments worldwide, and a household name for clear braces. Millions of people have benefitted – and continue to benefit – from Invisalign's treatment programme. If you decide to have treatment, you'll be joining countless others who have successfully got the results of their dreams.
How do I have Invisalign treatment with you?
It all starts with a consultation. Contact our Harwood team to find out more.