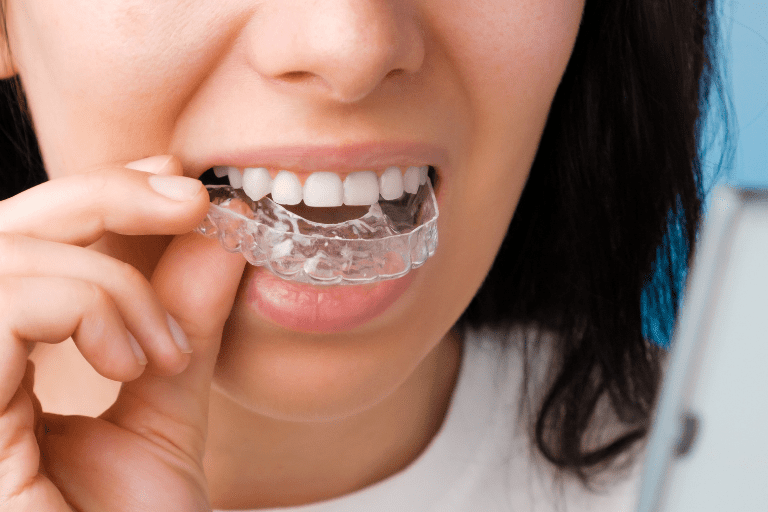 Invisalign V Braces
We all want an attractive, healthy smile – and most of us wish ours were a little straighter, too. Whatever the reason you're looking into teeth straightening treatments, it pays to do your research and find out what your options are, so you know you're making the best choice.
In this post, we're comparing Invisalign braces to fixed metal braces, so you can see all the fantastic benefits and flexibility that this new way of teeth straightening affords.
Invisalign in a nutshell
Many people are put off having a brace because treatment can take a long time, while being visible to others. But with Invisalign, there's lots to love: a brace that's removable, see-through and predictable, actually giving you a timeframe to work with from the first day of treatment to your incredible results.
Fixed braces in short
Okay, so we know a little about Invisalign – but how do fixed braces stack up? Well, as the name suggests, they're adhered to your teeth, so can only be removed by your dentist. And, even though some options can be more discreet – lingual fixed braces attach to the back of teeth, while our front-facing fixed braces use tooth-coloured brackets – they can still be more easily noticed than Invisalign.
Invisalign – the benefits
Invisalign is often our brace of choice because it allows the patient to take out their 'trays', whether they need a short break, or they need to eat or clean their teeth. Their clear design makes them virtually invisible when worn, and as they move teeth by degrees, you'll just need to swap them for the next set when ready. In addition, part of the treatment involves creating a 3D treatment plan, where you can see each tiny change to your teeth and how they'll look when you finish, making them more predictable than other options.
Fixed braces – the benefits
For this type of brace, the benefit is generally the cost (although it's worth mentioning that we can offer interest-free credit for our Invisalign braces, subject to the usual checks). As we've mentioned, there are options that are extremely discreet, but if you're looking for an 'invisible' treatment, Invisalign comes out top.
Find the right brace for you
Get in touch with our qualified, professional dentists today for a braces consultation. We happily serve Harwood, Bolton and the surrounding areas and are known for our fair, open and honest approach.