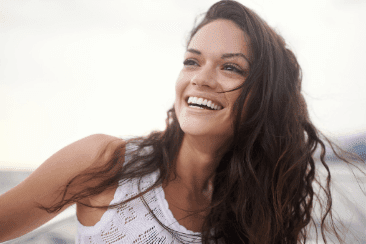 Our Top Private Treatments
Looking for private dental care in the heart of Bolton? At Harwood Dental Clinic, we're known for our range of treatments, expertise in the field of dentistry, and our friendly and committed staff. Your teeth are our top priority, so why not read on to learn about our top treatments for them?
Invisalign Braces
We know that many people are unhappy with their teeth – whether they have gaps or issues with crowding, bite problems or they just want their smile to look a little straighter. Invisalign braces, also known as adult braces, are a fantastic option for those looking to give their smile and overhaul. The treatment involves clipping plastic trays over your teeth, which slowly move your teeth into position over time. Invisalign brace trays are changed every few weeks, so the changes are made comfortably and incrementally. They're also totally clear and removable, making them great for teens and adults alike.
Dental Implants
Lots of our patients have missing teeth, and for a whole range of reasons – so whether the tooth was removed for a problem like decay, or knocked out in an accident, a dental implant can help. Our tooth implants involve drilling a hole into your gum, placing the 'rod' root part of the implant, and fitting the 'top' crown part when it's all healed over – so you can enjoy a new tooth for a lifetime, that's as realistic and durable as your natural ones.
Teeth whitening
Who doesn't wish for a whiter, brighter smile? Our tooth whitening treatment involves the Enlighten whitening system, which has a 98% success rate and can take your teeth to the Vita shade B1 in a matter of weeks. The treatment involves creating a custom-made tray for your teeth which you'll wear at home for a two-week period, followed by a 40-minute, in-practice treatment to boost your results. It might have once been considered a cosmetic treatment consigned to celebrities, but in actual fact, it's highly likely you'll know somebody in your everyday life who's had whitening done!

Whatever your needs, we can help here at Harwood Dental in Bolton. We carry out all work with care, attention and your comfort in mind, and want to put you at ease through every stage of your treatment. We also fully inform our patients at every stage of treatment – it's no wonder we've had so many positive reviews.
To book in for your dental treatment today, simply visit our contact page and fill out the form to get started.